You would think that Melania and Ivanka Trump have a good relationship: They're both rich fashionistas. They probably have the inside scoop on so much White House drama that would make for ah-maz-ing gossip. And they're also President Donald Trump's top two women, who are always there to help accommodate him throughout his presidency. However, considering the fact that Melania is only 11 years older than her stepdaughter, I'm sure things could still get awkward at times. Since they say pictures are worth a thousand words, I've found some photos of Melania and Ivanka Trump that may help us understand what their relationship is truly like behind closed doors, because man am I ever getting mixed vibes.
With the close age difference between the two, I can't say that I expect both ladies to have the perfect mother-and-daughter relationship. After all, what are you really supposed to talk about? Ivanka was already 24 years old when her father married Melania in 2005, so it's not like there are any nostalgic childhood memories that the White House adviser and first lady can reminisce over. And I can't even imagine how awkward it might be if Melania ever attempted to offer up any motherly advice. But, before I jump the gun, let's take a look at a few photos of the two to see if we can pick up on any clues of what their bond is really like.
Inauguration Day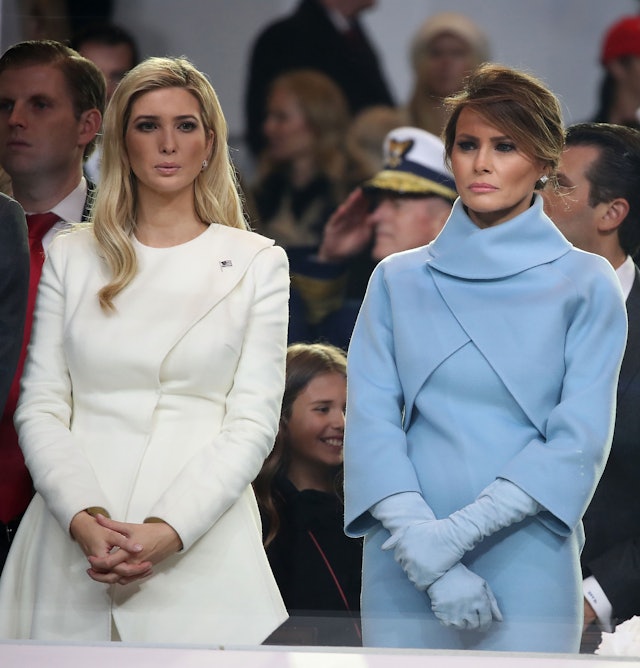 Let's start at the very beginning of Trump's presidency, shall we? On January 20, 2017, both Melania and Ivanka headed to the White House for Inauguration Day, sporting the most snazzy and chic threads. Melania opted for a powder blue dress and a matching coat, designed by Ralph Lauren, that she paired with light blue stilettos and leather gloves. Ivanka, on the other hand, wore a white assymetrical jacket and pants that were designed by Oscar de la Renta. Both ladies were praised for their ensembles (Melania even drew comparisons to former first lady and fashion muse Jackie Kennedy) on social media, but a photo snapped at the event showed the two completely stone-faced (and visibly over it, IMO).
In Melania's defense, she also appeared to be a bit icy toward her husband that day, too. According to Mirror, when Trump smiled at her, she flashed a smile back, but immediately returned to a scowl once he'd looked away. So maybe it just wasn't her day.
Also On Inauguration Day
Then again, it looks like the day wasn't all bad. In this shot, Ivanka looks like she's totally cracking up at whatever Melania was saying. I'm betting it was about the awkward gift exchange the first lady had with Michelle Obama when they first arrived at the White House.
Trump's Victory Speech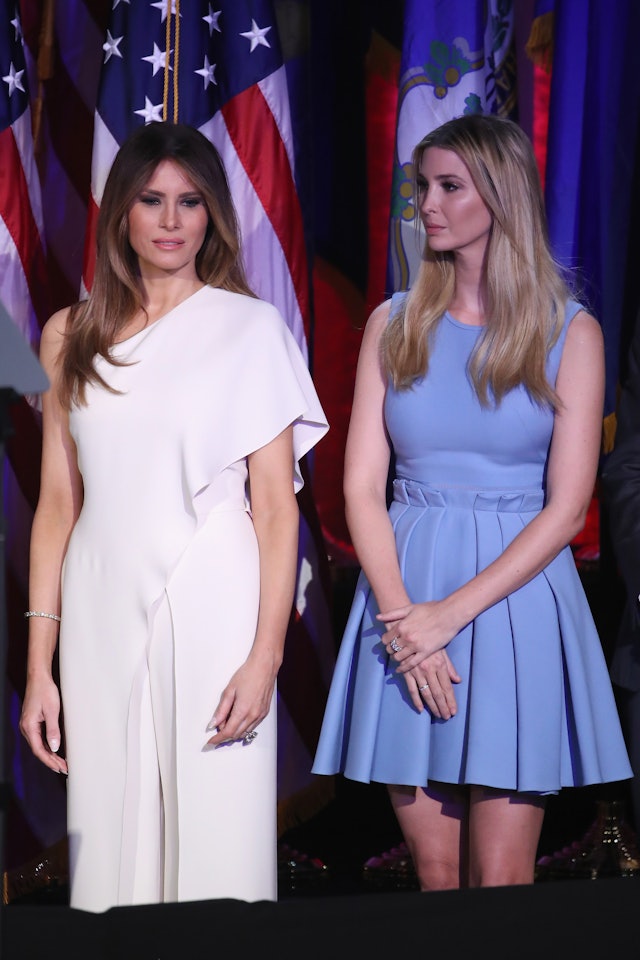 Then again again, in May 2017, Vanity Fair published an article that claimed multiple sources in the fashion and media world had said Melania and Ivanka's relationship had a certain "frostiness" to it. While the validity of the claim remains uncertain, it's one that I'm certainly not denying by the looks of this photo. Back in November 2016, during the president's victory speech on election night, both ladies looked a bit uncomfortable and/or really agitated.
It could also be the fact that Trump had reportedly been hanging over his wife's shoulder while she was filling out her ballot paper, which several media outlets said was his attempt to see who she was voting for. And honestly, that's surely a quick way to irritate anyone.
Ivanka Trump's Book Party
No matter the circumstances, bad relationship or good, it seems like kids naturally enhance bonds within any family. That's why, even if Melania and Ivanka don't have the closest relationship, the two can seemingly be amicable when it comes down to not only politics (family or otherwise), but their own separate endeavors as well. Back in 2009, Melania attended Ivanka's book signing at the Trump Tower, and snapped an adorable photo with her and Trump's then-four-year-old son, Barron.
So cute! This pic is totally Christmas card-worthy!
So what if Melania and Ivanka aren't exactly two peas in a pod. They both do have their individual roles as they relate to the president, and they also seem like really caring women in their personal lives.
That's all that truly matters. Right?