It seems like there's never a break in the drama at the White House. Donald Trump is constantly under fire for his words, his decisions, and his past. And when the Stormy Daniels scandal broke, Mel…
But despite it all, Melania is trying her best to keep their son, Barron, out of the spotlight. And these photos of the first lady and her son show she's kept him close his whole life.
She's focused on being a mom
She might have a few new responsibilities, but she's still focused on being a mom. | Chris Kleponis/Pool/Getty Images
Melania's life has been plagued with scandal ever since her husband announced his run for the presidency. Rumors swirled that Melania was in tears when she realized Donald would be the next president. And with Stormy Daniels in the spotlight, her life and marriage have been anything but normal. But through it all, she is determined to be a good mom. A spokeswoman for the first lady told People that in the midst of the drama, Melania is only focused on being a mother.
She always keeps her son close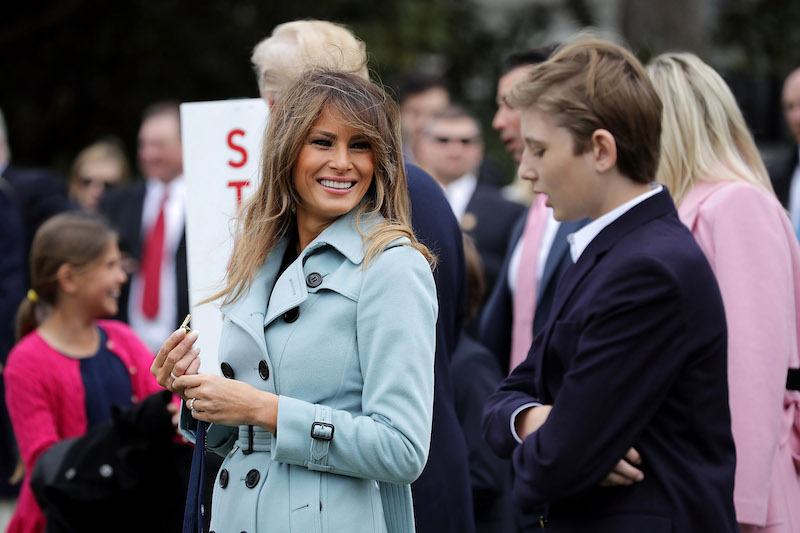 She keeps a close eye on Barron. | Chip Somodevilla/Getty Images
Long before Donald became president, Melania's biggest concern was parenting. But since her son has been shoved into the spotlight, she's kept him closer than ever. In many candid photos of the mother and son, Melania can be seen either looking at Barron or making contact with him in some way, such as putting her arm around him. She's aware of the public scrutiny on her family and wants to make sure Barron is OK.
She's trying to give him a normal life — even if the public disagrees
Being the president's son can't be easy. | Chip Somodevilla/Getty Images
The public reacted with mixed feelings when Melania announced she'd be staying in New York after her husband moved into the White House. But the first lady claimed she was simply trying to keep Barron's life as normal as possible. She wanted her son to finish the school year in New York rather than pull him out mid-year to start at a new school and make new friends. But some thought the first lady's move was wrong because it required millions of dollars in additional security.
She doesn't let the presidency interrupt his upbringing
Will a normal childhood be possible for Barron? | Chip Somodevilla/Getty Images
Since Barron moved into the White House before he even became a teenager, he's been thrown into a life he didn't necessarily ask for. When Barron finally started school in Maryland in September 2017, he did so quietlywith his mother by his side. And since he's moved into the White House, he's gone largely unnoticed with the exception of making appearances at important events, such as the State of the Union. Melania has done her best to keep her son's life under wraps from the public.
She refuses to let nannies raise him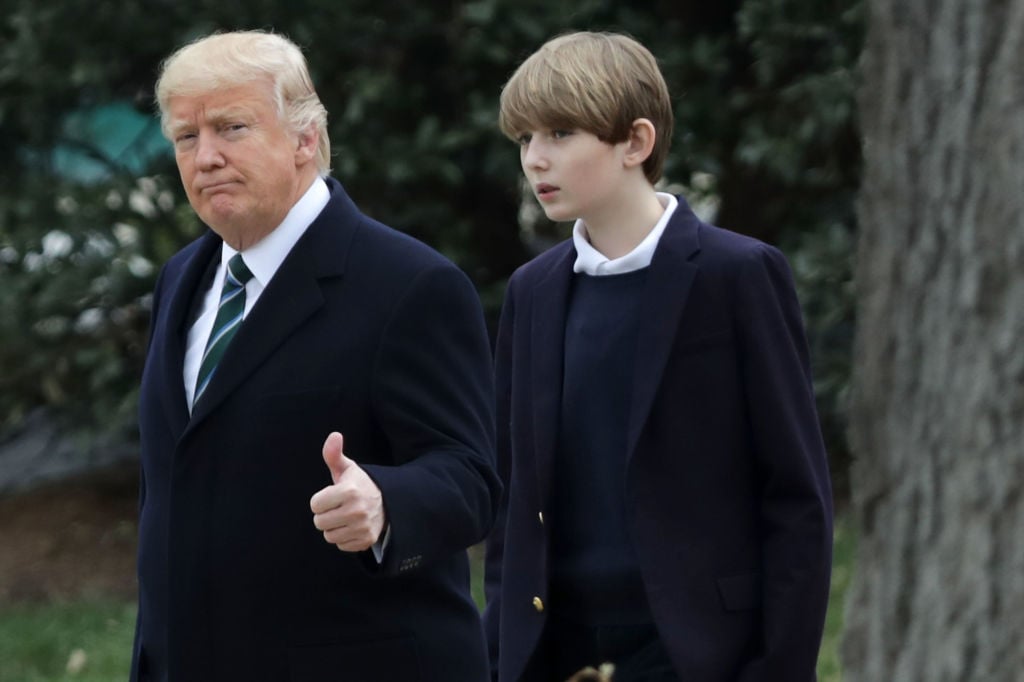 Melania raised Barron on her own. | Chip Somodevilla/Getty Images
One of Melania's biggest claims about parenting is she refuses to hire a nanny for her son. The first lady told People in 2015, "I like to be hands-on. I think it's very important." She said she is with her son all the time and helps him with his homework. But Melania also said she wants Donald and Barron to have father-son time, so she leaves them alone when they want to spend time together.
Next: She's OK with him doing this.
She wants him to learn from his mistakes
She never wanted him to grow up spoiled and entitled. | Gustavo Caballero/Getty Images
In an interview with Parenting, Melania stressed that it's OK for your child to make mistakes. "I think it's important to give a child room to make mistakes in order to learn," she said. She also said it's important to let Barron be whomever he wants to be. She does not push her own opinions on him and accepts when he says he dislikes something. And she believes it's important to balance being a friend and a parent.
Next: She considers Barron this.
She considers Barron Trump her proudest achievement
Melania Trump is very proud of her son. | Alex Wong/Getty Images
Melania has always expressed how proud she is to be a mother. She has been by her son's side long before her husband — who refused to change the boy's diapers — was in the White House. She encourages her son's creativity, mistakes, and growth into the person he wants to be.
Melania once said she has her hands full with her two boys, meaning Donald and Barron. It's clear no matter what's going on with the drama in her own life or in the White House, Melania is extremely focused on raising Barron the best way possible.
Source: http://www.blingnews.com/these-photos-of-melania-trump-with-barron-reveal-what-shes-really-like-as-a-mom/